Recently, the research team of Xinjiang Bosai Spinning Co., after repeated trials and experiments, finally overcome a difficult situation - the success of the renovation project of the spinning frame cradle. Saved 330,000 yuan for the company.


The cradle of the spinning frame is an important part of the spinning frame. It consists of 37 spare parts. Due to the use for many years, some parts of the cradle have been in a state of fatigue, showing excessive pressure and high power consumption. The company expects investment. 550,000 yuan to buy a batch of new cradle.


Now the company's research team only uses 220,000 yuan to update, repair and debug the parts of the cradle for re-use, so that the uniformity of the spun yarn is 0.3% higher than before. The power consumption of the single machine is lower than before. 3.1%, saving 330,000 yuan.
1. Impeller using the theory of ternary flow design, the application of flow analysis technology to predict the performance of the blower, the variable efficiency of up to 82%
2. See the machine using axial intake and diffuser adjustment device, the flow adjustment range of 45% of rated flow to 110%, so that it operates under non-rated conditions also have a higher efficiency
3. The assembled overall structure, the blower body assembled in the gear box gear box, lubricating oil system, motor and gear box compact layout on a common base, the base also serves as a fuel tank
4. Strict dynamic balance of the rotor, small vibration, high reliability, the overall low noise, low moment of inertia, start and stop the unit a short time, it is with the same flow and pressure multi-stage Centrifugal Fan, the energy consumption is small Light weight, small footprint
5 witnessed advanced and reasonable structure, wearing parts, installation, operation and maintenance convenience. The whole machine bearing vibration, temperature, anti-surge control, start the interlock protection, fault alarm, lubrication system oil pressure, oil temperature control, etc. are using programmable logic controller control, the machine running real-time monitoring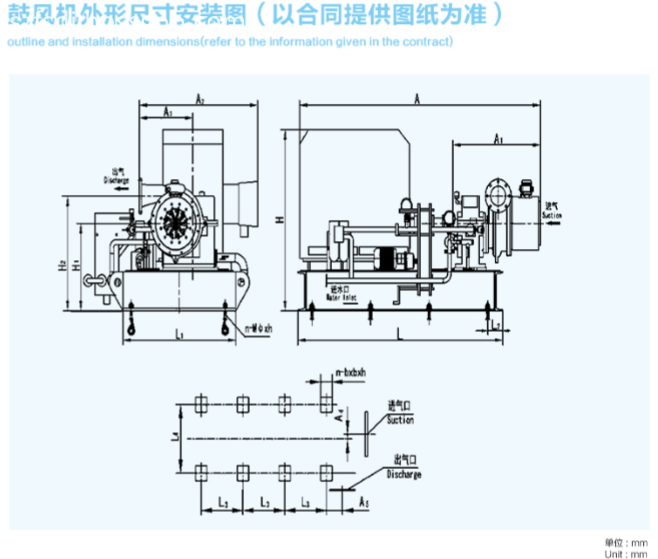 Technical indicators
Blower flow: 80 ~ 800m3 / min
Boost: 49 ~ 140kPa
The main purpose
This series of fans are widely used day power, chemical industry, iron and steel smelting, cement, pneumatic conveying, sewage treatment and other departments and industries, the transmission medium for the clean air
The pneumatic performance and structural design of the series of products reach the advanced level of similar products at home and abroad, with the advantages of energy saving, high efficiency, integration, high degree of automation, small size, light weight and high reliability, which can be widely used in sewage treatment, metallurgy, Circulating fluidized bed boiler fluidized power plant, gas desulfurization, pharmaceuticals, gas booster and other industries
Single Stage High Speed Centrifugal Blower
Single Stage High Speed Centrifugal Blower,Single Stage Centrifugal Blower With High Efficiency
Shenzhen Fu Sheng Electric Co., LTD. , http://www.fushengfan.com