Aluminum processing is an important part of China's non-ferrous metals industry. After years of rapid development, China has become the world's largest producer and consumer of aluminum products, and its overall strength has clearly increased. In 2014, China's output of aluminum processing materials reached 48.45 million tons, an increase of 18.6%, accounting for more than 50% of the world's output of aluminum processing materials. From January to August this year, the output of aluminum materials was 33.52 million tons, an increase of 9.1% year-on-year; from January to July The aluminum processing industry realized a profit of 29.2 billion yuan, accounting for 39% of the total industry (excluding gold) profits. In terms of equipment, China's large-scale extrusion materials, hot rolling, finish rolling and other equipment have reached the world's leading level. Energy-saving and environmental-friendly smelting casting equipment has been promoted.
In the aspect of structural adjustment, relying on electrolytic aluminum production base to directly use aluminum liquid, the capacity of short-flow aluminum processing has been continuously improved. Cans of packaging materials, high-grade radiator materials, and high-grade CTP plate-based materials have fully met the domestic market demand and achieved export. Large-scale transportation Aluminum for transportation has made important contributions to China's high-speed railways becoming China's high-end manufacturing business cards. Positive developments have been made in the development of aluminum for aviation and automobiles.
But we must also be soberly aware that China's investment in aluminum processing R&D is insufficient, and the numerical simulation and intelligent control of alloy compositions and their processing techniques are far from the advanced level in foreign countries, and the development capabilities of high-end products such as aviation aluminum and passenger car aluminum are weak. , The product quality is unstable and the production cost is high. Some companies can afford first-rate equipment, but they can't produce first-rate products. The homogenization of products is serious and the market competition is fierce. The international market has encountered the a€?double countera€? investigations and sanctions in many countries.
At present, the macroeconomic situation at home and abroad is complex, with downward pressure on economic operations, and the difficulties facing the industrial sector are particularly acute. From January to August of this year, the industrial added value increased by 6.3% year-on-year, a year-on-year decrease of 2.2 percentage points. Maintaining growth has become the most important task facing China. In order to realize the double-hundred goals set by the Party Central Committee, on May 19, 2015, the State Council officially issued the a€?Made in China 2025a€?.
a€?Made in China 2025a€? for the first time put forward the strategic goal of a€?manufacturing a strong country through manufacturinga€? through the a€?three stepsa€? strategy at the national strategic level. It is also the first ten-year action plan for the implementation of the strategy for strengthening the countrya€?s manufacturing industry. It is consistent with the a€?new normala€? and the current stability. Growth, structural adjustment, and transfer methods all have important guiding significance. "Made in China 2025" proposes nine strategic tasks, ten key areas, and five major projects. New materials are one of the key areas for advancement, and it is clearly proposed to speed up the development of high-performance light alloy materials. The aluminum processing industry must follow the general requirements for the goal of building a strong manufacturing country, while continuing to expand consumption in the traditional field, accelerating technological innovation and structural adjustment, and meeting the demand for high-end equipment manufacturing as soon as possible, and actively exploring new energy vehicles and drones. The demand for new areas such as robotics, efforts to achieve simultaneous growth in quality, efficiency, and speed.
The Raw Materials Division of the Ministry of Industry and Information Technology, as the management department of the non-ferrous metal industry, has always attached great importance to the development of the aluminum processing industry. It has given special support to the high-performance aluminum deep-processing materials projects through special projects such as industrial foundations, technological transformation, and funds, and at the same time, the Association actively promotes aluminum materials in the power industry. In the fields of construction, transportation, and other fields of consumption, the copper-aluminum composite materials application site promotion conference, the transportation aluminum conference, the aviation aluminum promotion and application forum, and the aviation aluminum upstream and downstream cooperation mechanism have been held successively in Shanghai on September 15th. A cooperation mechanism was established to establish a conference.
At present, aluminum alloy semi-trailer and tanker can enjoy the policy support of transportation energy-saving emission reduction, highway suspension transportation, and vehicle and ship tax reduction and exemption. Broken aluminum alloy, color aluminum plate and aluminum alloy template are listed as green building materials. In the coming period, the Ministry of Industry and Information Technology will focus on the following tasks:
1. Improve industry management policies
Formulate the a€?13th Five-year Development Plan for Nonferrous Metals Industrya€? and the a€?13th Five-Year Development Guidance Opinion for Aluminum Industrya€?. During the a€?13th Five-Year Plana€? period, Chinaa€?s economy has entered a new normal state of medium- and high-speed growth, and development environment, tasks, and requirements have taken place. With new changes, we must understand the new normal, adapt to the new normal, lead the new normal, and focus on studying the measures and methods for maintaining economic growth. By the end of the 13th Five-Year Plan period, we will initially build China into a non-ferrous metal industry powerhouse, among which will raise the level of deep processing of aluminum materials. It is one of the important symbols of realizing a strong country. Encourage the development of a mixed ownership system, give full play to the flexible and highly efficient institutional mechanisms of private enterprises and the capital and talent advantages of state-owned enterprises, and stimulate their vitality.
2, continue to support the development of high-end aluminum
We will continue to implement major projects such as technological transformation, strong foundation projects, and new materials that are closely related to the aluminum processing industry, and increase the directional and continuous support for key areas such as aviation aluminum and car panels, and strive for material development, technological innovation, and quality control. , intelligent production and other aspects to achieve substantial breakthroughs. Research and application technologies such as aluminum cleaning and maintenance, contact corrosion control, miniaturization of friction stir welding, and portable repair welding technology are applied to improve the application service capabilities of aluminum materials.
3, to expand the new application of aluminum processing materials
We vigorously promoted the excellent performance of aluminum products such as lightweight, energy-saving and renewable, and actively expanded aluminum consumption. Actively promote the implementation of the aviation aluminum material cooperation mechanism's key tasks, study and organize the establishment of transportation aluminum production enterprises, equipment design and manufacturing, downstream users, governments, associations, etc. establish cooperation mechanisms, coordinate inter-departmental improvement of supporting policies, and actively guide enterprises to actively participate in vehicle models Standardization and revision work will promote the standardization, lightweighting, and vanization of vehicle models, and promote close cooperation between upstream and downstream.
4, to promote the integration of two depth
Research and establishment of standardized standards for the integration of aluminum processing companies, to guide aluminum processing companies attach great importance to the integration of the two, through the intelligent production equipment, process simulation, production process automation, management information, eliminate the constraints of China's high-quality aluminum product quality uniformity and The stubborn disease of stability. Make full use of a€?Internet Plusa€? to guide aluminum manufacturers to establish highly efficient and collaborative aluminum R&D and design platforms, supply chain management, and full lifecycle services through e-commerce, big data, and cloud platforms, and fully respond to downstream users' personalized customization. , maintenance services and other needs, to promote the transformation of production-oriented manufacturing to service-oriented manufacturing.
Chopped Graphite/Graphite Electrode in different materials have different definition of graphite pieces, some data and literature is not very big graphite particles are called graphite pieces (such as Graphite Powder) some is graphite products have a certain size, for Graphite Broken into patches, we here say of graphite for a second, usually called graphite blocks. Graphite is produced from graphitization and machining process of graphite products. It is used as additive and conductive material in the manufacture of graphite waste in steel and foundry industries, and can also be processed according to customer's requirements. They are also widely used in electric arc furnaces (steelmaking) and electrochemical furnaces (metallurgical and chemical industries).
Main use of graphite
Graphite pieces due to its low ash content, conductive and heat conduction performance is good, so there are a wide range of USES, can be added to the formula of less ash or dust products, graphite broken broken into small particles commonly use. Ingredients to add a certain amount of graphite, the plastic paste after kneading, especially during extrusion can reduce the friction resistance paste to squeeze the mouthpiece, to improve the coefficient of pressure type. Graphite pieces of coal adsorption properties of asphalt is better, to join the carbon block can rise to reduce the "short" waste (i.e., the product after roasting top produce honeycomb structure), and can improve the thermal conductivity of the carbon block and alkali corrosion resistance. The electrode paste used in hermetically-sealed thermal furnace is added to a certain amount of graphite to increase the conductivity and thermal conductivity of the electrode paste and accelerate the sintering speed of electrode paste. When the graphite is ground into small particles or fine powder, it is also used as raw material for the production of graphite chemical equipment (such as graphite-resin tubes). The graphite can also be used as a carbon addition agent for the electric furnace.
Graphite classification
1. Raw and broken. It is a raw blank that is not qualified after molding.
2. Roasting is the cutting debris that is recovered after the roasting of raw billet and after inspection of unqualified waste and the processing of calcined products.
3. The graphite is broken, and it is inspected by the graphite-producing waste and the cutting debris produced by graphite products in the process of processing.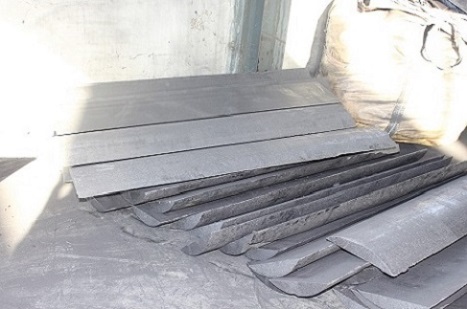 Graphite Broken
Graphite Broken,Broken Graphite Electrode,Graphitized Anode Broken,Graphite Tablets
Fengcheng Ruixing Carbon Products Co., Ltd , http://www.lnfcrxts.com