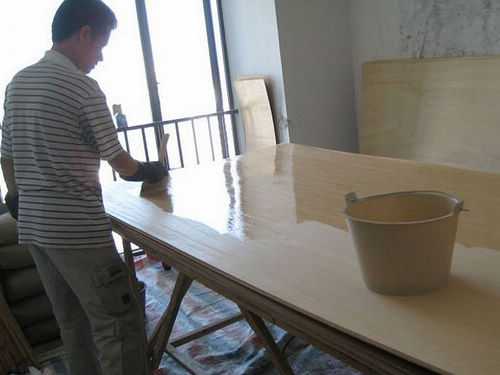 Commonly used wood lacquer lacquer, polyurethane paint and waterborne wood lacquer three.
Comparison of main varieties of wood paint
Nitrocellulose paint (NC): Good decorative effect; fast drying speed; relatively low solid content in repair; poor durability, gloss, and color retention; poor environmental protection.
Polyurethane paint (PE): The paint film is plump and thick, with good gloss and transparency. It is hard and wearable, and it has strong adhesion. The paint film is damaged and difficult to repair; the drying speed is slower; the coating film tends to turn yellow.
Waterborne wood lacquer (W): good environmental protection; no yellowing, excellent water resistance, no burning; rust, high temperature part of the hardness of water-based paint is not high; construction environment requirements are relatively high.
Wood lacquer construction is a very precise and meticulous task and requires suitable environmental conditions. Temperature, humidity, light, ventilation, and hygiene are all in line with one
Demand can only make a good paint finish.
Temperature: It is best performed at room temperature (15-30?°C). If the temperature is too low, the paint film will become slow. If the temperature is too high (more than 35?°C), the brushing performance will be adversely affected.
Humidity: Avoid humid air, which is detrimental to most paints, especially lacquer, polyurethane paint, etc. Construction in wet and rainy weather can cause whitening or slow drying.
Light: Adequate light helps to see the varnish, identify whether the coating is uniform, and avoid brushing or sagging in time. Therefore, it should be selected for construction in a well-lit room.
Ventilation: Ventilation equipment should be provided at the construction site to maintain a proper amount of fresh air circulation. This will not only be beneficial to the health of the constructors, but also be conducive to film formation and reduce the risk of fire. However, the speed of air circulation must not be too fast so as not to affect the quality of the coating.
Hygiene: The construction environment must be kept clean. The dust and debris generated during the construction process should be immediately removed. Otherwise, the final effect of the paint film will be affected. The clean construction environment is especially important when applying floor paint.
famous brand
1 Nippon Paint (Japanese paint brand, famous brand)
2 Dulux (Akzo Nobel Chemicals, famous paint brand)
3 China Resources Paint (China Top Brand Products, Coating Brand)
4 Bardez Paint (an official sponsor of the China National Track and Field team, the State Administration for Industry and Commerce recognizes: China Well-known Trademarks)
5 Carpoly paint (China Top Brand, China National Basketball Team endorsement brand)
Decoration materials knowledge three trees lacquer paint room decoration
Product introduction
HHCMS-240 type Carbon Molecular Sieve
HHCMS-240 is a new kind of non-polar adsorbent. It is designed to extract nitrogen-rich gas from the air. It is suitable for separating nitrogen from the air.
The most notable features of the carbon molecular sieve are high gas-producing efficiency and low waste, especially nitrogen with a purity higher than 99.9%.

It is widely used in large air separation and sheet making equipment, and the application field covers the high-end aspects such as the storage and transportation of crude oil in yibi ships.
Project parameters
The diameter of:1.0-1.3 1.3-1.5
Packing density:a‰¥680-700kg/m?3
The intensity of particle:a‰¥95
Compressive strength abrasion:a‰¤1%
The moisture content:a‰¤0.5%
Standard packing:20Kg/barrel. 40Kg/barrel. 130Kg/barrel
The adsorption time of test condition was 58s with an average pressure of 1-2s
Adsorption pressure

Nitrogen purity (%)

Yield (Nm3/ h.t.)

Nitrogen recovery rate

0.8MPa

99.99

95

24

99.9

160

29

99.5

240

35

99

320

42

98

400

43

97

490

48

96

560

51

95

620

55

0.6MPa

99.99

75

27

99.9

130

30

99.5

190

37

99

260

42

98

320

44

97

390

50

96

445

52

95

500

56
Pay attention to
1. The nitrogen production equipment can reduce the adsorption temperature to better show its excellent nitrogen production performance under conditions;
2. Pay attention to low temperature drying and seal preservation during storage;
Black Strip Molecular Sieve Hhcms-240
Black Strip Molecular Sieve Cms-240,Molecular Sieve Continuous Strip Desiccant,Black Strip Molecular Sieves Adsorbents,Black Strip Zeolite Molecular Sieve
Zhejiang Changxing Haihua Chemical Co.,Ltd. , https://www.zjcxhhcms.com